Aloha
Welcome to Maui Massage
If you would like to schedule a session and experience in-Room Swedish Massage on Maui please contact me:

Laura: 808-264-8643 or Email Laura@mauioutcallmassage.com

Hawaii License MAT 9554
Swedish Massage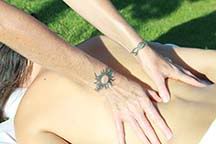 The term "Swedish Massage" refers to a variety of massage techniques that are specifically designed to relax muscles by applying pressure to them against deeper muscles and bones, and rubbing in the same direction as the flow of blood returning to the heart.

The main goal of a Swedish massage is to help increase the flow of oxygen in the blood and release toxins from the muscles.

Swedish massage shortens recovery time from muscular strain by flushing the tissues of lactic acid, uric acid, and other metabolic wastes. Swedish massage reduces stress, both emotional and physical, and can be an intregal part of a regular program for stress management. Without increasing the load on the heart, it increases circulation. Another benefit of sweish massage is that it stretches the ligaments and tendons keeping them supple and pliable. Swedish massage also stimulates the skin and nervous system and soothes the nerves themselves at the same time.

Swedish massage techniques include: long strokes, kneading, friction, tapping, percussion, vibration, effleurage, and shaking motions. The usually sequence of techniques are:

1.Effleurage: Gliding strokes with the palms, thumbs and/or fingertips
2.Petrissage: Kneading movements with the hands, thumbs and/or fingers
3.Friction: Circular pressures with the palms of hands, thumbs and/or fingers
4.Vibration: Oscillatory movements that shake or vibrate the body
5.Percussion: Brisk hacking or tapping
6.Passive and active movements: Bending and stretching

Swedish massage feels good, is relaxing and invigorating. It affects the nerves, muscles, glands, and circulation, while promoting health and well being.
If the phrase "I need a vacation after my vacation" sounds all too familiar to you I suggest you try integrating a couple Maui Mobile Massage Therapy sessions into your stay. A massage at the beginning helps alleviate jet lag, one at the end sends you home with nice long relaxed muscles and if you can squeeze one in the middle (depending on how long you stay) you will have even more energy to enjoy all the wonderful Maui Vacation Activities.
The main effects of massage are both mechanical and nervous reflex effect.
The mechanical effect is the actual physical contact caused by pressure on the body which in turns stretches the tissues and drive the fluids in the direction of the movement, ultimately increasing circulation. Increased circulation leads to 1)Better tissue oxygenation 2)Good metabolism 3)Removal of carbon dioxide 4)Lowered blood pressure 5)Happy individuals.
The pure nervous reflex effect influences only the nervous system. The effect is achieved with a very light touch in order to access the cutaneous sensory nerve endings. This instigates soothing and deep relaxation
Laura Cavanaugh delivers In-Room Therapeutic Massage to your home, hotel, condo or vacation rental on Maui. For your Maui Vacation Mobile Massage and Bodywork is provided island wide including: Wailea, Makena, Kihei, Kahului, Wailuku, Ma'alea, Lahaina, Kaanapali, Napili, Kapalua, Kahana, Honokowai, Pukalani, Makawao and surrounding upcountry, Kula, Haiku, Paia. No need to hassle with driving, receive a Maui Massage at home and enjoy the feeling of being able to relax completely.
I look forward to helping you integrate regular massage sessions into your lifestyle and your budget. Everyone can afford a massage once a month - call and ask me how you can.
Who doesn't have stress these days? Who isn't overworked and pressed for time? Even though Maui is highly popularized as laid back and care free most of us still have to work for a living and play hard with all the various activities the island has to offer. In order to stay at the top of your game (whatever it may be) pain free, try getting regular bodywork sessions and see what happens. Whether you golf, play tennis, paddle, surf, kite surf, wind surf, ride horses for show or rodeo, snorkel, scuba dive, zumba, run, triathalon, swim, train for the ironman, work construction or sit at a computer all day a Massage or Bodywork Session on Maui will give your body freedom and ultimately you will feel and play better than you thought you could.
Maui Outcall Massage Service October 1, 2010