Aloha
Welcome to Maui Massage
In-Room Custom Reflexology, Massage
& Bodywork on Maui, Hawaii
My name is Laura and I offer mobile In-Room Custom Foot, Hand, and Ear Reflexology on Maui, Hawaii using the Bill Flocco method. I also offer Bodywork and Therapeutic Massage sessions. All areas of Maui are served including Wailea, Makena, Kihei, Kahului, Wailuku, Lahaina, Kaanapali, Napili, Kapalua, Paia, Haiku and all of UpCountry Maui.
If you would like to schedule a session and experience in-Room Reflexology, Bodywork or Massage on Maui please contact me:
Laura: 808-264-8643 or Email Laura@mauioutcallmassage.com
Hawaii License MAT 9554
Reflexology
If you've heard about Reflexology and always wanted to experience it for yourself book a session today on Maui and enjoy. If you love foot massages why not get a full hour session on your feet. Reflexology can also be integrated into your Custom Maui Massage, especially good during a 90 minute session.
It is believed that there are maps resembling the human body on the ears, hands and feet of the human body. Reflexology is the art of stimulating the Reflex points on these maps in order to allow the body to return to it's normal, relaxed state of homeostasis.
An Integrated Foot, Hand & Ear Reflexology Session on Maui is an entirely different state of relaxation and re-balancing than you have ever experienced (if you have then you know what I'm talking about). Also great for those of you who don't enjoy massage and would rather keep your clothes on during your session and not have oil/lotion all over your body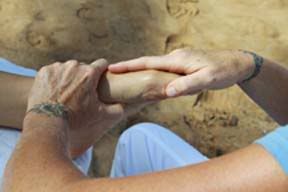 The American Academy of Reflexology (the School I am certified with) teaches The Flocco Method of Integrated Foot, Hand & Ear Reflexology and has this to say about receiving a Reflexology treatment in which all three reflex maps are worked in a session, "Working with all three –maps– during the same Reflexology Session usually brings about several results, when compared to working with just one of the maps of the– Foot, Hand, or Ear."
Receiving Regular Integrated Reflexology Sessions results in: 1. Higher percentage of relief per session. 2. People get better sooner, needing fewer sessions. 3. Benefits last longer
Click here for more detailed history and information on Reflexology
Maui Outcall Massage Service October 1, 2010